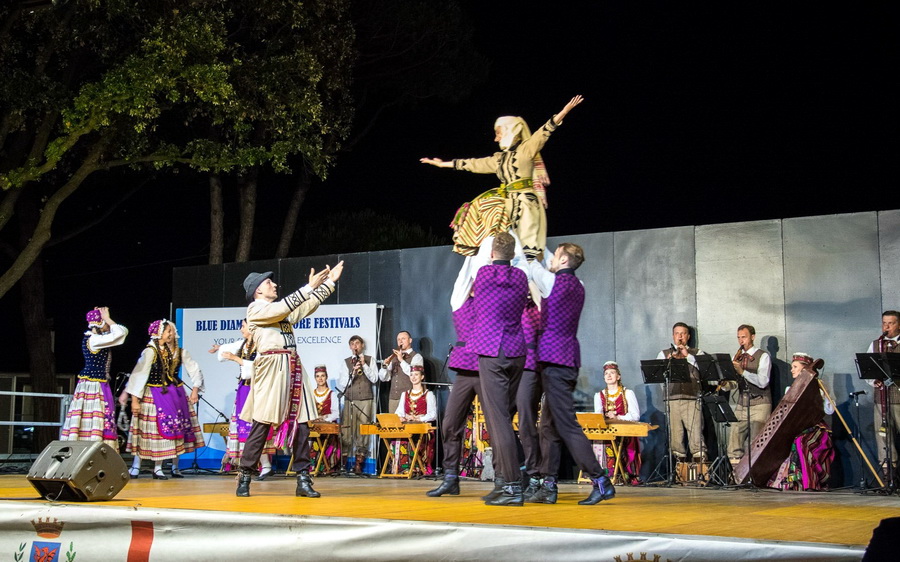 Folklore festival "Two steps to Venice" – Italy takes place in Lido di Jesolo, a famous sea resort of Venetian lagoon. Once you choose to attend this festival with your group, you are sure to enjoy many benefits which this part of Italy offers.
HOTEL AND FOOD DURING THE FESTIVAL
The hotel you will be accommodated in is maximally 200m far from the beach, in the middle of the street with many shops, bars, restaurants, and many people having a walk in the evening. All you need is near your hotel. Italian breakfast and 3-course dinner with traditional food of Veneto will be served in hotel's restaurant. For the lunch, if you are on the beach you may taste various dishes prepared in local "Trattoria". We recommend home-made pasta, lasagna, ravioli or many kinds of meet which they offer. The fresh seafood is also precious. Pizza is served in restaurants only in the evening.
You should definitely know that in Italy, there is a time schedule for all meals that is strictly respected. That means that you can have lunch in the restaurant only from 12:00 to 14:00 , after this period kitchen is closed and they do not serve anything. Dinner is served only from 19:30 to 21:00.
ABOUT PERFORMANCES AND FOLKLORE FESTIVAL
Folklore festival in Lido di Jesolo will take place in one of the squares on the main street so, usually, you do not need to move your own bus, but you can go walking to the parade of participants and then arrive to the stage. Just before the beginning of the festival, the participants will have their defile among the streets of Lido di Jesolo.
The promotional video of International folklore festival "Two steps to Venice" Lido di Jesolo you may see on the following link:
AIRPORT TRANSFERS
For the groups coming by airplane or ferryboat we can provide all needed transfers with convenient rates. The nearest airports are Treviso, Venice, Bologna.
HOW TO VISIT VENICE?
Venice is one of the most visited places in the world. Municipality of Venice in last 10 years introduced many taxes and fees for buses and last year, for tourists as well. The fee for the bus is called ZTL tax and it is very high, also not all types of buses are allowed to approach Venice. Detailed information about ZTL check points regulation is available on this link.
The other way and the usual way which the most of visitors accommodated in Lido di Jesolo choose is to visit Venice by boat. Departing from mini port Punta Sabbioni you can get to San Marco square in only 30 minutes. In occasion of our folklore festival in Venice – Italy  we provide private boat for all participants which are going to Venice according to our program, of course with a very special price in respect to regular line. The time of the departure is adapted to the festival's schedule and the excursion is coordinated by our team. We depart from Punta Sabbioni after breakfast and we come back to the hotel in time for dinner.
To get to Punta Sabbioni from your hotel it takes 35 minutes by public transport (round trip ticket is around 5,50 €). If you use your own bus or car you may arrive in 20 minutes. It's important to know that if you use your own bus there is a ZTL tax in the port Punta Sabbioni (Cavallino check-point) and the cost is around 100 €, but all categories of buses can approach.
SHOPPING IN FAMOUS OUTLET STORES
Italy is known for good places for shopping, especially in the north where many outlet stores are located. So, if you enjoy buying good clothes or shoes , you are lucky☺. The famous Palmanova outlet village is 80 km far from Lido di Jesolo. You may spend whole day there or just make a stop coming to Lido di Jesolo or on the way back to your country when folklore festival finishes.
There are also many stores and shopping malls near Lido di Jesolo, so you may choose the most interesting for you.
For more videos and photos, please visit our Youtube channel or our official Facebook page!
Should you have any questions, do not hesitate to contact us for any information you need. You may send us email: bluediamondfestivals@gmail.com