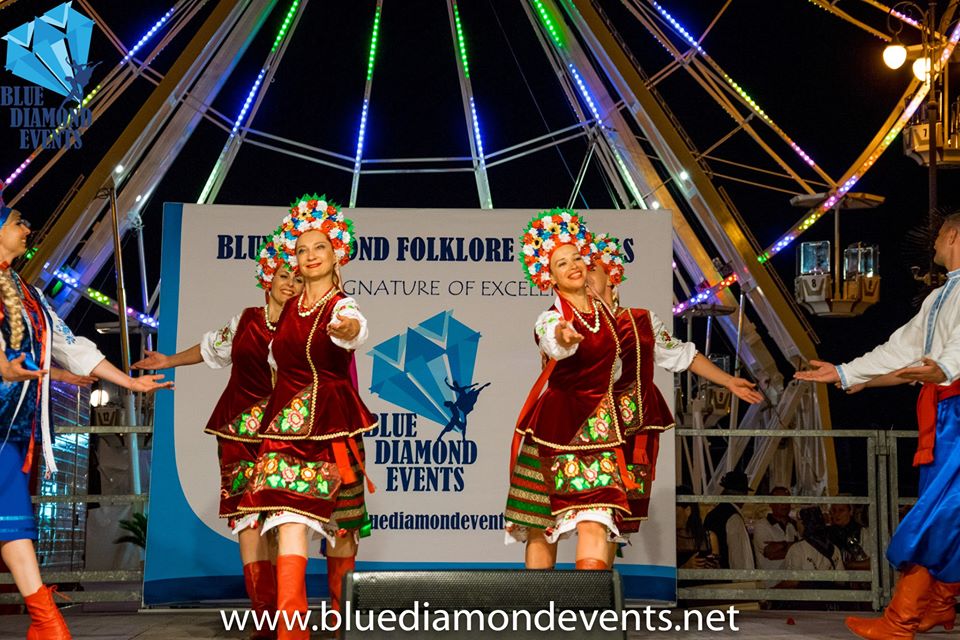 Folklore festival "Cesenatico" Rimini
One of the most popular  folklore festivals in our program, ''Marelandia''  actually takes place on the main square of Cesenatico – Piazza Andrea Costa. To clarify, we say Rimini as we are all more familiar with this town on the Adriatic sea. These two towns are next to each other and connected by beautiful sandy beach.
We suggest that you spend the first day of your stay in Rimini on a beach. In that way, you will relax for the evening performance. At dinner time, thousands of visitors, tourists and residents will gather to watch your performance on an open-air stage of Folklore festival ''Marelandia'' Cesenatico– Rimini. Just before performances, you will present your national costumes in a spectacular parade of participants along the Port Canal. This canal was designed by Leonardo da Vinci. Crowded with fishing boats and surrounded by bars and restaurants, this Canal will remind you of Venice.
Official promotional video of folklore festival "Marelandia" Rimini – Cesenatico
Accommodation
As participant of this festival you will be accommodated in cozy  3* hotels. All the hotels we work with are situated on a few steps to the beach. Managed by Italian families they all have home style restaurants where you will taste homemade specialities of Emilia Romagna.
The most of the beaches are private, with service area, equipped with sun beds and sun umbrellas, beach bars and playgrounds for kids. To use those beaches you should pay a daily ticket. Your hotel may give you a group discount. There are also areas with free beaches where you can come with your own towel free of charge.
Folklore festival in Rimini – Cesenatico  is recommended especially for children and student groups because of the big variety of activities adapted for them. Sea water is not deep and you can walk at least  30metres, so it is good also for non swimmers.
Another big attraction for kids, but also for adults is the amusement water park Mirabilandia which is located at only 20km of distance from Cesenatico. You may find more info here.
You can get there by your own bus or by public transport.
This folklore festival offers many benefits for adults as well. For those who love night life , Rimini is famous  for many night clubs, disco clubs and bars in open air with live music.
Shopping in San Marino
Lovers of shopping  will find many shops in Rimini with numerous retails for everyone, but what you should not miss is to visit San Marino. Not only for sightseeing of this beautiful town-country, European microstate, but for good shopping. You may find there Italian leather for incredibly discounted  prices and many other brands (perfumes, sunglasses etc.)
Moving around
If you plan to get this location by airplane, the nearest airport is Bologna.
Coming with ferry-boat, Ancona is the nearest port.
In both cases we can organize for our participants bus transfer to the hotel and back for additional cost.
Your hotel will be near beach in Cesenatico or Rimini. This means that you may need your bus to get to the place of the festival. In this case, a bus parking will be provided.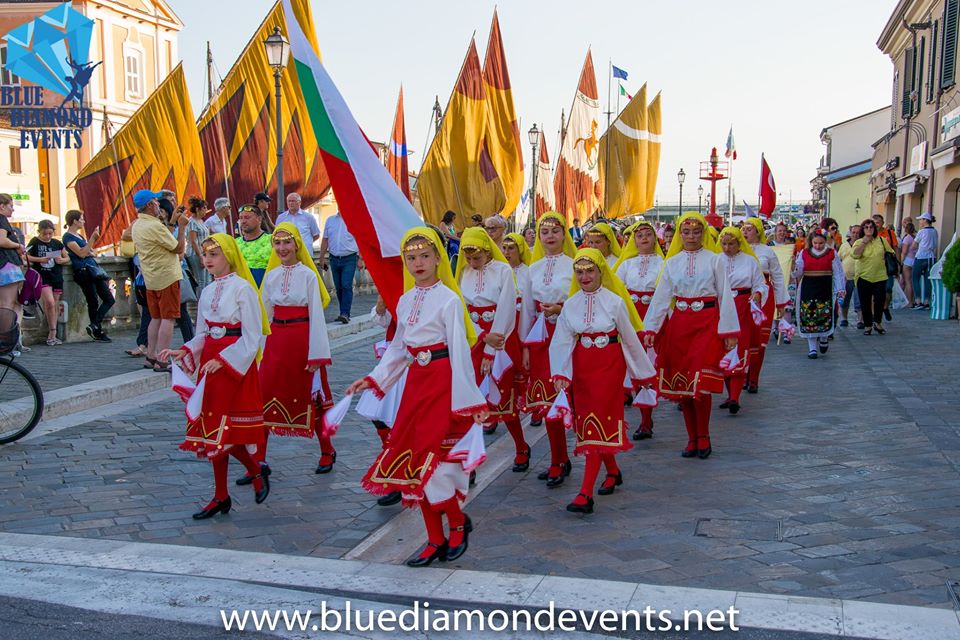 For more videos and photos, please visit our youtube channel  or our official facebook page.
Should you have any questions, do not hesitate to contact us for any information you need. You may send us email: bluediamondfestivals@gmail.com