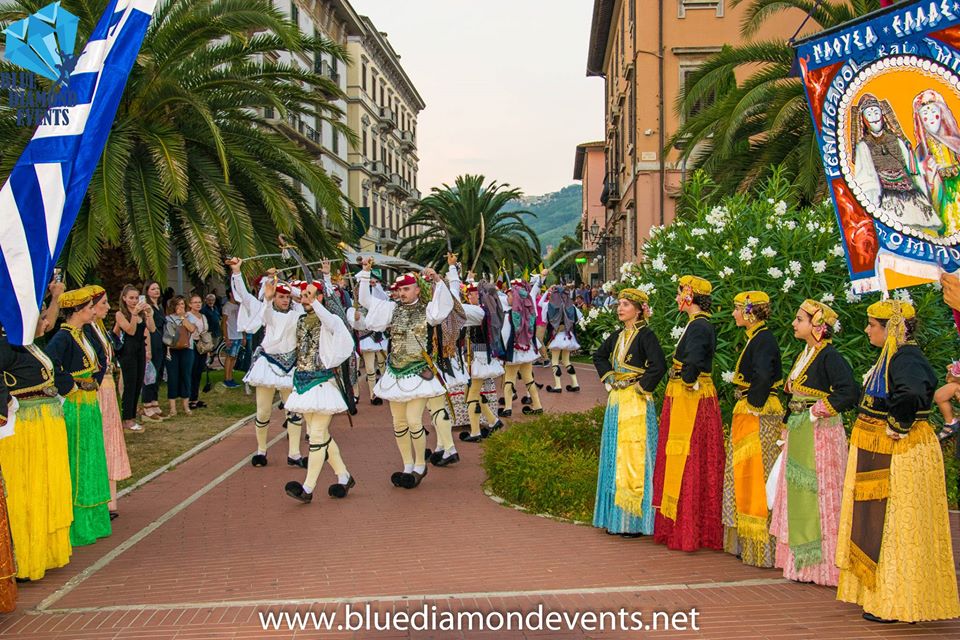 About our folklore festival in Tuscany
For our International Folklore Festival in Tuscany we chose Montecatini Terme, the biggest "spa town" in Italy.  It is a town with many thermal baths which you should not miss. After relaxation in thermal water or mud bath, you can go for a walk along the central street, as it is not far away from your hotel. In fact, you can walk everywhere.
Your hotel will be close to the central square where the Folklore Festival Montecatini Terme will take place. The lovely parade of the participants and the festival itself will be followed by hundreds of visitors. In the central street there are many shops and restaurants where you can enjoy the tasty Tuscan cuisine. Don't leave without tasting the delicious wine and the great Tuscan steak.
Montecatini Terme is a town where the buses are not allowed to get to centre. There are special parking places and inevitable ZTL fee. More details and updates about tariffs you may find here . The bus parking  that you will pay with ZTL tax included is around 36€ per day.
There is also a romantic place in Montecatini Terme where two little red trains, 'Gigio & Gigia' meet on a 1077m long railway in the middle of the green hill. The point where the trains meet and "kiss" is the point where the visitors imply a promise of eternal love.  The carriages have stayed the same since 1898 and the trip lasts 8 minutes.
What to do in Tuscany?
There are many things you can see in Tuscany, the difficulty is to choose where to start. You may be attracted by amazing art and architecture of Florence or by magnificent landscapes. You should definitely start your visit with the city of art, Florence, where you will see Michelangelo's "David" statue, Botticelli's works and the Duomo basilica. Then, we suggest you visit Siena, Italy's loveliest medieval city. Of course, there is inevitable Pisa with its leaning tower and Piazza dei Miracoli. If you prefer village, you will like San Gimignano with its 72 tower-houses built by  symbols of the wealth and power of patrician families.
Far from the towns, there is Val d'Orcia, rich green valley with its roads lined with cypress trees, golden fields of grain and sunflowers, fabulous vineyards and olive groves. Nature or art lover, you must visit both sides of this Italian province.
Categorized by tourists as a favourite day trip is the visit to Cinque Terre, "living landscape" of five colourful towns on the coast of Ligurian sea. Lemons, extra virgin olive oil, honey and wines are just some of the special flavours you can enjoy there. Those fishing villages, accessible only by rail or water, will take your breath away.
On the other hand, the nearest beach to Montecatini terme is Viareggio.
If you would like to visit some, hidden from the tourists, places in the hart of Tuscany, we highly recommend Terme di Saturnia and Bagni San Filippo.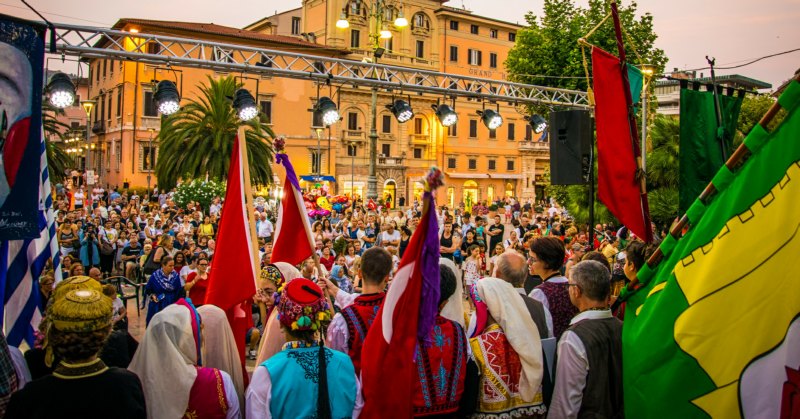 The most frequent question is ''how to visit Florence"
If you decide to go by your own bus and you want to enter city center, you will have to pay very high tax (+-700 eur). There is one option to avoid this tax. You can reach the point named Villa Costanza where you won't pay ZTL tax for buses, park your bus there and then go by  T1 Leonardo tramway line to  Santa Maria Novella Florence in 20 minutes.
You may also go by train from Montecatini Terme station, which is accessible on foot from each hotel. If you catch the train, you will get to Santa Maria Novella(central station of Florence) in 53 minutes.
Groups which are coming to folklore festival in Montecatini Terme by plane can choose between airports of Florence, Pisa and Bologna. For example, the most of cheap flights from Spain arrive to Bologna….
You may contact our team in order to provide bus transfers airport-hotel-airport.
Official promotional  video of folklore festival Montecatini Terme
For more videos and photos , please visit our Youtube channel  or our official Facebook page!
Should you have any questions, do not hesitate to contact us for any information you need. You may send us email:  bluediamondfestivals@gmail.com